4 Space-Saving Tricks to Maximize Your Closet Space Now
The key to maximizing space in your closet is to start by evaluating everything you need to store. Take everything out and remove items that you no longer need. Once you know what you need to store, you can begin to choose the right solutions for your space. Whether you have a walk-in closet or a tiny reach-in closet, there are plenty of space-saving tricks and items you can use to organize your space.
Cascading Hangers
When it comes to maximizing space in a closet, hangers are an often-overlooked tool. By opting for add-on hangers or cascading hangers, you can store four times the amount of clothing in the same amount of space as traditional hangers. Introducing the MORALVE Pants Hangers Space Saving Hangers! This versatile pants hanger is perfect for anyone looking to save space in their closet. With its easy-to-assemble design, you can quickly and easily organize your clothes in no time. Made with premium quality beech wood, this hanger organizer is built strong and can hold up to 30lbs of your heaviest clothes. It's perfect for organizing your jeans, skirts, trousers, and scarves. This multi-functional pants rack features 5 layers and 2 uses, making it a great option for a variety of clothing items.
Over-The-Door Hanging Storage
In addition to utilizing the floor and adding an extra rod for double hanging space, a great way to maximize space in your closet is by utilizing over-the-door hanging storage. This is a practical and affordable solution that can provide a significant amount of extra storage. By adding organizers or hooks to the back of your closet door, you can easily hang your smaller items to free up space. The WEBI Over The Door Hook is a versatile accessory designed to keep your space organized and tidy. This over-door hook has a sturdy construction and can hold various items with ease. It has six hooks, which can be used to hang clothes, towels, bags, belts, purses, and robes. One of the best features of the WEBI Over The Door Hook is its ability to protect the door from scratches. It has two round sponges that cushion the hook and prevent any damage to your door. Additionally, these sponges also prevent the noises that regular door rack hangers make.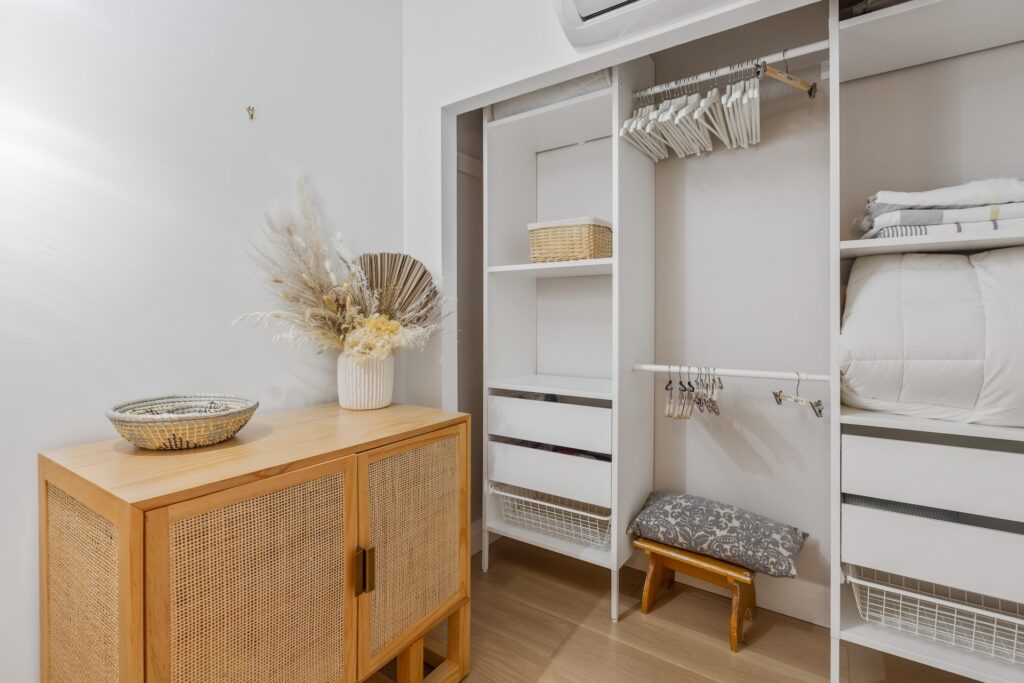 Wire Shelves
To maximize your closet space, it's important to utilize all available areas, especially any hidden spaces. One way to do this is by adding wire shelves to the recessed ends of your closet. This allows for additional storage and organization of items that may have previously been cluttered or hard to reach. The Rubbermaid Linen Closet Shelf Kit is the ideal solution for anyone looking to add extra storage space to their closet. The kit features a ventilated design that promotes air circulation, keeping items inside fresh and preventing unwanted odors. Made from durable materials, this wire shelving system is built to withstand wear and tear, providing long-lasting storage for your home. The installation process is easy thanks to the included support braces and installation hardware. With just a few simple steps, you'll have a sturdy and reliable shelf system that can hold all of your linens, clothing, and other household items.
Shelf Dividers
One of the top tips for maximizing space in your closet is to start organizing with shelf dividers. Using clear shelf dividers takes up minimal space and easily slides onto most standard shelves, helping to keep stacks of clothing neat and organized. Introducing the Hmdivor Clear Acrylic Shelf Dividers, the perfect solution for keeping your closets, bedroom, kitchen, and office shelves organized. This 6-pack of shelf dividers is made of high-quality, clear acrylic which is stronger, clearer, lighter, and safer than glass or wood. With these dividers, you can easily see the items placed in each compartment through the transparent dividers. They are easy to install and require no complicated assembly. They are multipurpose and can be used in your bedroom, kitchen, and office.
The Bottom Line
In conclusion, there are various ways to maximize the space in your closet and create an organized environment. Utilizing wire shelves reclaims unused storage and strategically placing shelf dividers create a more systematized and space-efficient layout. By using these simple tips, you can create the closet space you've dreamt of for a well-organized wardrobe.