Laundry Room Essentials: Must-Haves for a More Efficient Space 
Doing laundry is a chore that most of us dread, but it doesn't have to be. With the right tools and equipment, you can transform your laundry room into a more efficient and organized space that will make the task less daunting.
In this blog post, we'll be discussing some must-have essentials that will help you to achieve a more functional and streamlined laundry room. From storage solutions to cleaning supplies, we've got you covered with all the essential items you need for a better laundry experience in your home.
Sink and Washing Machine
Having a sink and washing machine in your laundry room is a must-have for a more functional and efficient space. A dedicated corner for your washing machine and sink allows for easy access to water and drainage while doing your laundry. And having a spacious sink provides a comfortable space for rinsing clothes and washing delicate items. Additionally, placing your utility sink beside or in between your washing machine and dryer units can maximize efficiency and save valuable space.
Folding Area and Clothes Hanging Space
Have a designated folding area and clothes hanging space. After washing and drying your clothes, having an organized space to fold and hang them up will not only make the chore more efficient but also help keep your clothes wrinkle-free.
A sturdy table or counter can work as a folding area, and it's a great opportunity to add a pop of color with a fun tabletop or patterned mat. A folding rack or retractable clothesline is perfect for drying delicate items or hanging clothes that need to be put away immediately. Adding hooks or a hanging rod will also provide a convenient spot for hangers and clothes that need to air dry.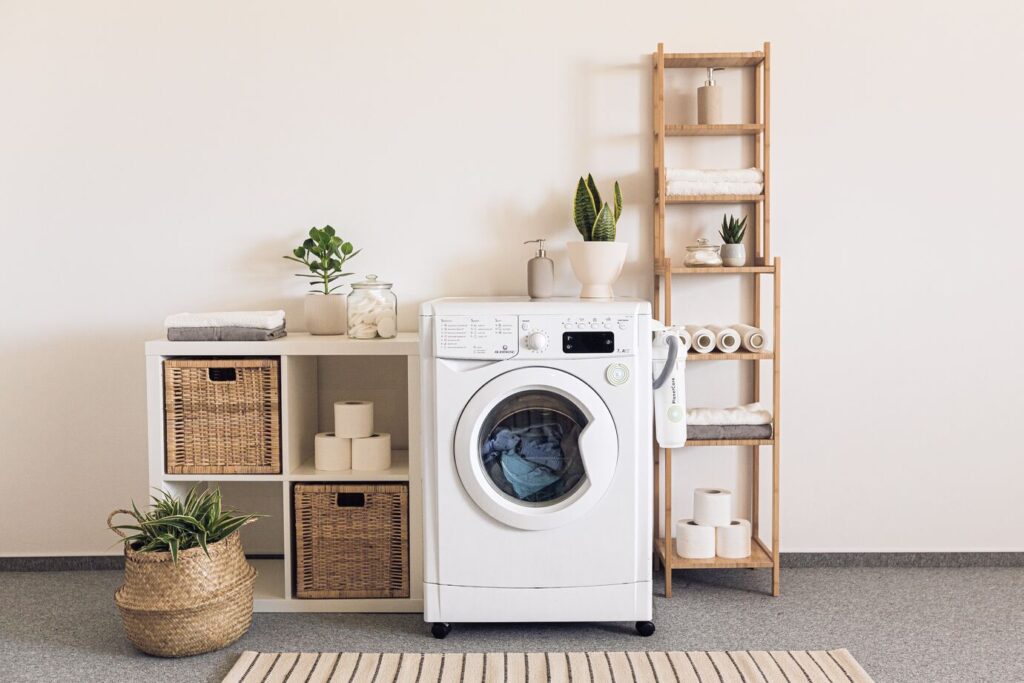 Storage for Cleaning Supplies
To keep your laundry room running smoothly, it's important to have dedicated storage for all your cleaning supplies. This means having shelves, cabinets, or bins to keep things organized and easily accessible. Consider using clear or labeled containers to make finding what you need a breeze. And don't forget about the small things like clothespins, dryer sheets, and stain removers – these should also have a designated spot. Keeping your cleaning supplies organized and within reach will save you time and frustration when it comes time to tackle that pile of laundry.
Baskets, Bins, and Shelves
Baskets, bins, and shelves are all must-haves for any organized laundry room. These storage solutions provide a designated spot for all your laundry essentials, such as detergent, fabric softeners, stain removers, and dryer sheets.
Utilizing shelving units above your washer and dryer is a smart way to keep these items within arm's reach while maintaining a tidy space. Opt for clear containers or labeled baskets for easy identification and to avoid cluttered countertops. And don't forget to include a hamper or two to keep dirty clothes off the floor and out of sight. Adding baskets, bins, and shelves to your laundry room organization plan will help keep your space functional and efficient.
Collapsible Laundry Baskets
Collapsible laundry baskets are a game changer when it comes to maximizing space in a small laundry room. Storage is crucial in any efficient laundry space, and collapsible baskets offer a solution. These baskets come in a variety of sizes and materials, perfect for fitting into any nook or cranny.
Not only are they great for storing dirty laundry, but they can also be used to transport clean laundry or even other household items. Additionally, collapsible laundry baskets can easily be folded and stored away when not in use, which is perfect for those who are short on space. With these versatile and space-saving baskets, you can finally say goodbye to laundry clutter and hello to a more organized space.
The Bottom Line
By incorporating the must-have essentials mentioned in this blog post, you can transform your laundry room into a more functional space, making the task of doing laundry a more manageable and even enjoyable experience. Don't let the dread of laundry overwhelm you! Invest in the right tools and equipment to create a laundry room that works for you and your home.