3 Simple Bathroom Organization Products That Will Transform Your Space
There's nothing quite like stepping into a clean, organized bathroom to start your day off on the right foot. However, achieving that level of organization can seem daunting if your bathroom is cluttered with products and accessories scattered everywhere. Luckily, there are plenty of simple and affordable bathroom organization products out there that can help transform your space from chaotic to calm in no time.
Over-the-Toilet Storage Cabinet for Instant Space
The perfect solution for tackling clutter in a small bathroom is an over-the-toilet storage cabinet. This ingenious product is designed to provide instant space for all of your toiletries and hand towels in a compact and convenient way. It takes advantage of the unused vertical space above the toilet tank, providing plenty of room for storing items that might otherwise be scattered throughout the room. Plus, it can be extremely budget-friendly, making it a great choice for anyone who wants to maximize their space without breaking the bank. Introducing the Spirich Home Over The Toilet Storage Cabinet, the perfect solution to reduce clutter and create additional storage space in your bathroom. This space-saving design features a mix of a cabinet with an adjustable interior shelf and a fixed open storage shelf, making it easy to access your daily necessities while keeping them out of sight. Crafted with premium engineered wood, this bathroom shelf over the toilet is built to last and is easy to clean. With ample storage space, this bathroom storage cabinet organizer comes with four open cubbies for displaying your favorite pieces and a storage cabinet with doors for storing toiletries out of sight.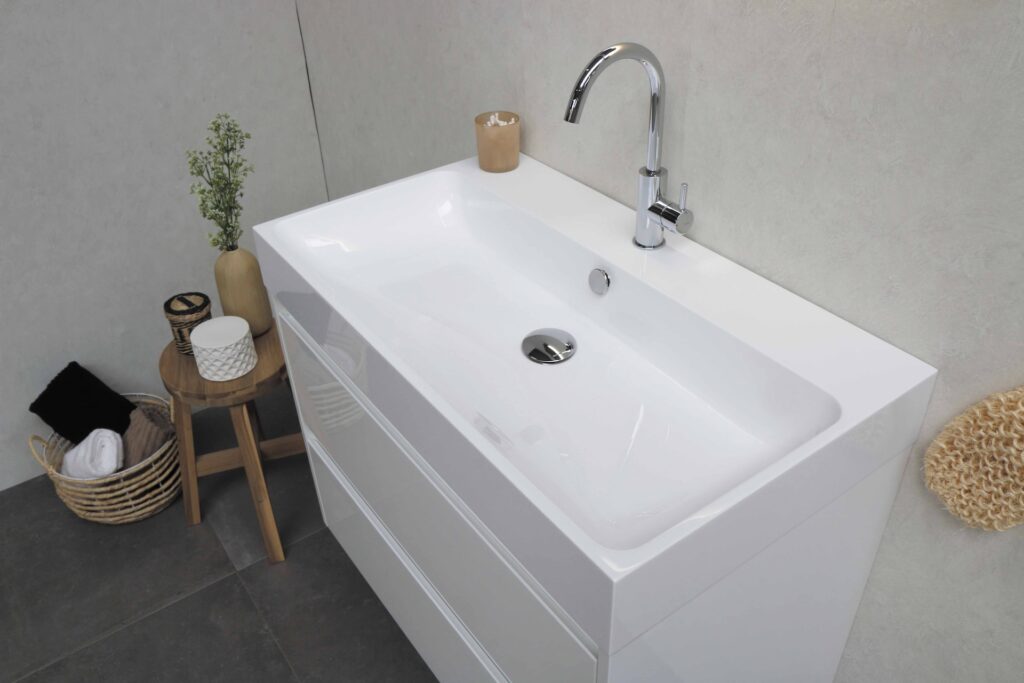 Drawer Organizers and Under-Counter Space Savers
Sometimes it feels impossible to keep the bathroom organized with all the clutter on the countertops and in drawers. Thankfully, there are simple solutions to transform your space. One of the best ways to organize your bathroom is by using drawer organizers and under-counter space savers. By making use of these products, you can create a designated spot for your beauty and hygiene products, leaving your countertops clear. Another bonus of under-counter organizers is that they use vertical space that may have gone unused otherwise. Introducing the Simple Houseware Stackable Under Sink Cabinet Sliding Basket Organizer Drawer! With a sliding basket design for easy access and a stackable feature, you can buy multiple sets and stack them together to maximize storage. No drill or power tools are needed – simply assemble the baskets and save on space in seconds. This sturdy metal construction comes in an elegant chrome finish that looks great in any setting. Order now and say goodbye to digging through jumbled drawers, and hello to a clutter-free bathroom.
Wicker Baskets and Decorative Bins for Organized Floor Space
Adding wicker baskets and decorative bins to your bathroom floor space not only provides a stylish touch but also maximizes organization. These functional storage options can hold items such as towels, extra toilet paper rolls, and even laundry hampers. Plus, with a variety of colors and patterns available, you can choose ones that complement your existing bathroom decor. The Goodpick Cotton Rope Basket with Handle is just the right basket for you and it's safe for children too. With a size of 15" × 15", this woven rope storage basket provides ample space for all your baby's toys, laundry, blankets, towels, art/craft supplies, clothes, and more. With its soft texture, it is gentle on your baby's skin and prevents any collision scratches. The sturdy construction of this cotton rope basket ensures that it can hold heavy objects while maintaining its shape. The basket features a convenient handle for easy carrying and moving, making it the best option for travel or storage. This cotton rope basket is also collapsible and foldable, making it easy to store when not in use.