DIY Home Organization Ideas for the Budget-Savvy Homeowner 
Are you tired of cluttered, disorganized spaces in your home but can't justify the cost of professional organizing services? Don't worry, you're not alone! Today, we'll be sharing some DIY home organization ideas that won't break the bank. These tips are perfect for the budget-savvy homeowner looking to spruce up their living space without spending a fortune. From repurposing items you already have to getting creative with storage solutions, we've got you covered.
1. Use inexpensive storage solutions
When it comes to creating a tidy home on a budget, it's important to consider inexpensive storage solutions. Using items like wine racks, adhesive hooks, and hidden storage mirrors can be a great way to make use of everyday items for organization.
Upcycle old containers for organizing
Instead of buying new storage solutions, take a look around your home and see what items can be repurposed. Old coffee cans can be turned into pen holders or small storage containers for craft supplies. Empty mason jars can be used to hold small items like buttons or nails, or even as a flower vase. Empty shoeboxes can also be covered in decorative paper and used as storage containers for accessories or paperwork.
Make use of jars and baskets
Clear food jars can be used to store pantry items, while baskets can be utilized in various rooms to hold and organize items. Baskets can be found at thrift stores or dollar stores and can be labeled for easy access. Jars can also be used for bathroom organization or as decorative elements throughout the home.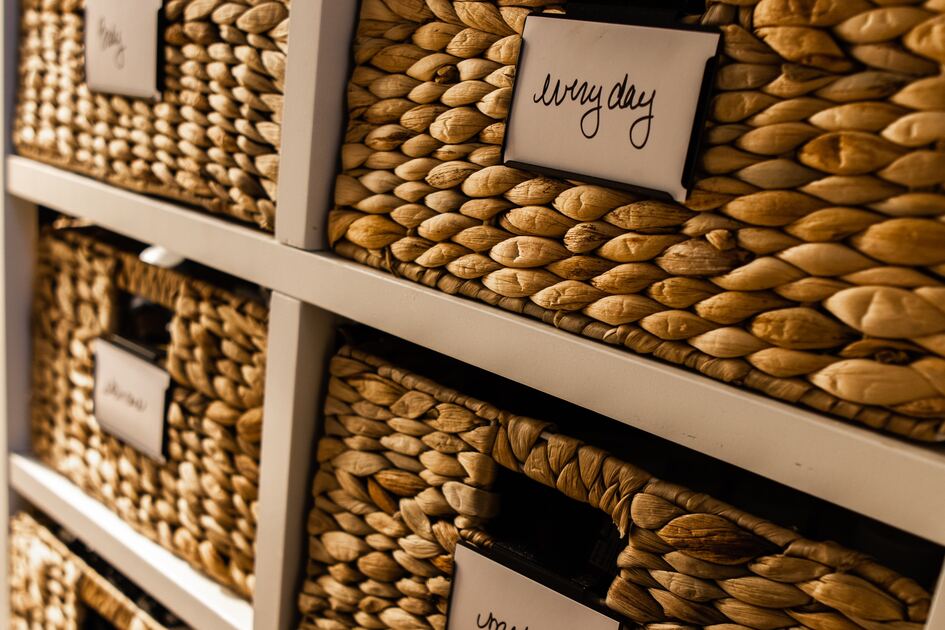 2. Declutter and donate unused items
To achieve a home that is organized and clutter-free, it's important to declutter and donate any unused items. This is a budget-savvy way to clear up space and even give back to those in need.
Take a look at all the items in your home and ask yourself if you really need them. If not, consider donating them to a local charity or organization. This not only helps you clear your space, but also gives others the opportunity to find a new use for your unused items.
Have a garage sale
Organizing a garage sale is an excellent method of freeing up space in your home while also earning additional income. It's a situation where everyone wins, as you dispose of unwanted items that are cluttering your home and make some money in the process. Conducting a garage sale is also an enjoyable way to communicate with your local community and neighbors. It's a chance to meet new individuals, exchange personal experiences, and make new friends.
3. Repurpose items for new organization purposes
Another great way to organize your home without spending too much money is to repurpose items for new organization purposes. Instead of buying new organizers or containers, you can re-use old ones or give them a new purpose. This technique not only saves you money but also helps reduce waste and promotes sustainable living.
Plus, it's a great way to add a personal touch to your home organization projects. Don't hesitate to get creative and experiment with different types of containers and materials. With a little bit of creativity, anything can be turned into a useful organization resource.
Make different types of dividers with things you find at home
One great way to organize a cluttered space on a budget is to make your own dividers at home. This can be as simple as cutting up cardboard boxes to create drawer dividers, or using old shoeboxes to make partitioned bins for smaller items.
For a more aesthetically pleasing option, consider upcycling old picture frames into hanging organizers or repurposing plastic containers into dividers. DIY dividers not only provide a cost-effective way to organize, but they also allow for customization to fit individual needs and decor styles. With a little creativity, DIY dividers can transform a messy space into an organized oasis.
Achieve a Tidy Home Without Breaking the Bank
For the budget-savvy homeowner, keeping a tidy home doesn't have to mean breaking the bank. From using inexpensive storage solutions to decluttering and repurposing items for new organization purposes, homeowners can save money and achieve a tidy home. With these ideas and more, homeowners can maintain an organized home without worrying about their budget.