3 Must Have Items To Organize Your Kitchen Like A Pro
If you're someone who enjoys cooking and spending time in the kitchen, having an organized space is essential. Not only does it make meal prep easier and more efficient, but it can also bring a sense of calm and relaxation to your daily routine. In this post, we'll provide you with some tips and must-have items to help you organize your kitchen like a pro!
Sorting Flavors vs. Function
In order to organize your kitchen like a pro, it's important to have a clear sorting strategy. According to professional organizers, sorting by flavor and function is key. By keeping all spices and condiments together and grouping them by flavor or cuisine, you can easily find what you need without having to dig through cluttered shelves. Additionally, grouping kitchen tools and appliances by their function can save time and increase efficiency. For example, keep all baking tools and ingredients together in one area, and keep cooking utensils, pots, and pans in another. By implementing this simple yet efficient sorting strategy, you'll be able to maximize your kitchen space and streamline your cooking and meal prep process.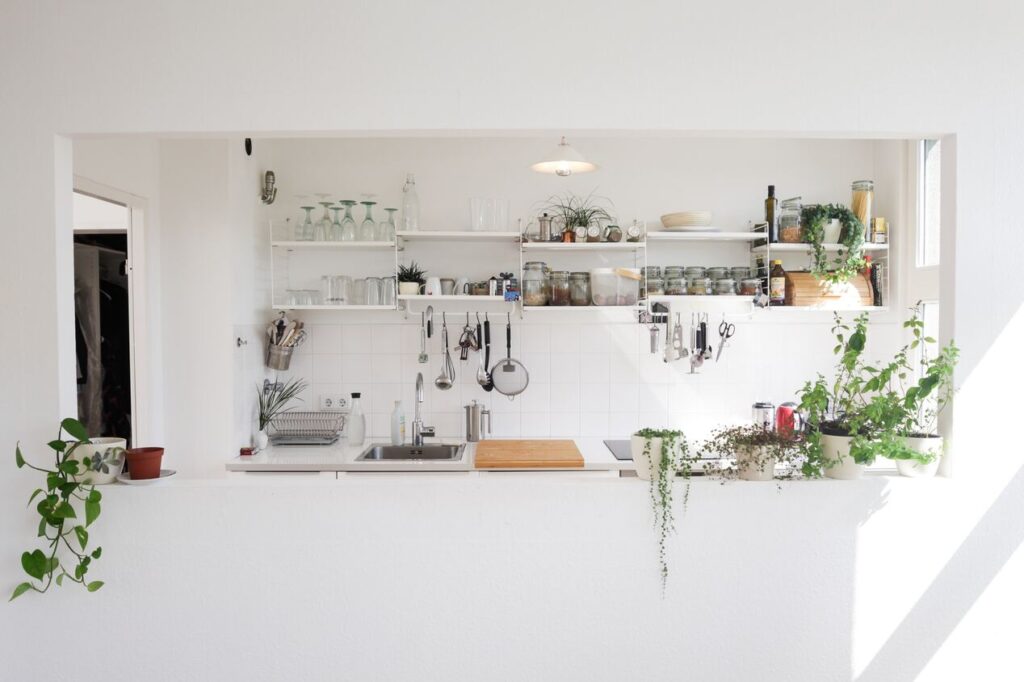 YouCopia Crazy Susan Turntable
The YouCopia Crazy Susan Turntable is a divided lazy Susan organizer that features three clear bins for cabinet and pantry storage. This organizer is the perfect solution for keeping all of your little things in one place, including items in your bathroom, office, or craft room. The three removable bins allow for easy access to your items whenever you need them, and the clear design makes it easy to see exactly what's inside each bin. The turntable sits on an 11″ base that fits standard cabinets, providing a clutter-free solution to your storage needs. Say goodbye to daily searches through cluttered drawers – the YouCopia Crazy Susan Turntable will make your everyday routine a breeze.
Joseph Joseph Nest 9 Plus Nesting Bowls Set
Upgrade your kitchen convenience with the Joseph Joseph Nest 9 Plus Nesting Bowls Set. This practical and space-saving set includes nine essential cooking items that all nest together, occupying minimal space in your kitchen. The set features five measuring cups, two mixing bowls, a colander, and a sieve, which all nest together for easy storage. The two mixing bowls come with non-slip bases and wider carry handles, making them easy and comfortable to use. The small mixing bowl includes measurements in both metric and imperial units molded inside, making it easy to measure ingredients accurately. The colander and sieve are also designed to nest together, making them easy to store when not in use.
Simple Houseware Over the Cabinet Door Organizer Holder
The Simple Houseware Over the Cabinet Door Organizer Holder is the perfect solution for organizing your kitchen or bathroom supplies. This organizer is designed to hold cutting boards, bakeware pans, cookie sheets, or plastic food wrap in your kitchen, or your bathroom supplies in the bathroom. Featuring an ultra-thin hook with EVA foam padding, it is gentle on your cabinets and protects them from scratches. The sturdy steel construction with silver coating ensures durability and longevity. It has the capacity to store 4 to 5 regular cutting boards, making your kitchen more organized and clutter-free. This organizer is easy to use and can be mounted over any cabinet door. So, order now and make your life easier with this amazing organizer!
Your Kitchen, Your System: Make it Work for You
In order to truly have an organized and efficient kitchen, it's important to create a system that works for you and your household. This means taking into consideration your individual needs and habits. Some tips to help you create your own personalized system include prioritizing frequently used items, categorizing and grouping similar items together, and utilizing storage solutions that make sense for your space. It's also important to regularly reassess and adjust your system as needed. By making small changes and consistently maintaining your system, you can keep your kitchen running smoothly and stress-free.