6 Genius Kitchen Organization Hacks You Need to Try
Looking for ways to declutter and organize your kitchen? You've come to the right place! Keeping your kitchen organized can be a daunting task, but with the right tips and tricks, it doesn't have to be. In this article, we will be sharing some genius organization hacks that will not only make your kitchen look neat and tidy but also save you time and make cooking more enjoyable. From utilizing unused spaces to creating designated areas for specific items, these hacks are sure to help you streamline your kitchen and improve your daily routine. So grab a notepad and get ready to transform your kitchen with these organizational tips!
Wire Organizer for Cutting Boards
Here's a hack that will make your life even easier: a wire organizer for cutting boards! No more cluttered cabinets or falling cutting boards – this handy organizer will keep all your cutting boards neatly in one place. It's a simple and affordable solution that will make prepping your meals a breeze. So why not add a wire organizer to your kitchen cabinets today and say goodbye to the frustration of searching for the right cutting board when you need it?
Labels for Product Organization
In addition to wire organizers, labeling products is another genius kitchen organization hack that will make your life way easier. Not only will it help you find what you need quickly, but it will also make it easier to put things back in their designated spot. You can use stickers or dry-erase markers to label containers or storage bins.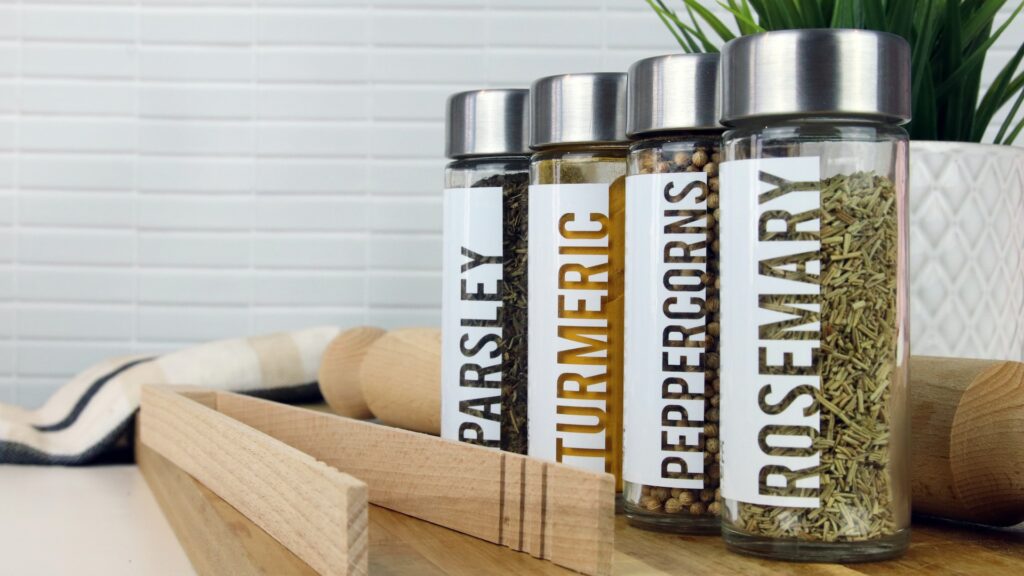 Chalkboard with Measurements
Another genius hack is utilizing chalkboards with measurements. Not only are chalkboards aesthetically pleasing, but they also serve as a functional tool for keeping your kitchen organized. You can add a chalkboard to the outside of your fridge or on the inside of one of your cabinets. Plus, you can stick chalkboard contact paper and adhesive pockets to the inside of your cabinets for even more organization options.
Pull-Out Rolling Shelves for Under Cabinet Organization
Take your kitchen organization to the next level with pull-out rolling shelves! These shelves not only help to declutter the cabinets but also make it easier to access items that would otherwise be hidden at the back. Install these shelves under the cabinets and roll them out when needed. It'll be so much easier to find and reach items. These shelves can be purchased or DIY-ed. They can store anything from pots and pans to spices and dry goods. Rolling shelves are a must-have for kitchen organization!
Clear Plastic Organizers for Drawer Organization
Looking for a quick and easy way to organize your kitchen drawers? One simple solution is to invest in clear plastic organizers. These handy organizers are perfect for keeping utensils, measuring cups, and other small items in their proper place. Since these organizers are clear, it's easy to see what's inside without rummaging through a jumbled mess of kitchen tools. So why not give them a try and reclaim your kitchen drawers today?
Lazy Susans for Corner Cabinet Access
Lazy Susans are the perfect solution for maximizing the storage space in your kitchen's corner cabinets. In addition to their practicality, they also add a touch of elegance to your kitchen. There are lazy Susans with basket designs so that each wedge can have different items in them. You'll be able to easily access items that would otherwise be difficult to reach thanks to the spinning wheel. Whether it's spices or canned goods, a lazy Susan will make it easier to find what you need when you need it. So if you're looking for an easy, affordable way to organize your kitchen, consider investing in a lazy Susan today!
The Bottom Line
In conclusion, there are many genius kitchen hacks that can help you optimize your kitchen space and keep it organized. From using a wire organizer to store cutting boards, to utilizing lazy susans for easy access to condiments and spices, these hacks can help you make the most of your available space. By implementing these simple and affordable hacks, you'll be able to create a more functional and efficient kitchen that makes cooking and cleaning a breeze. So whether you're an experienced home cook or just starting out, give these hacks a try and enjoy the benefits of a well-organized kitchen.